Bioaroma Crete Rhodon Organic Balancing Beeswax Night Balm 50ml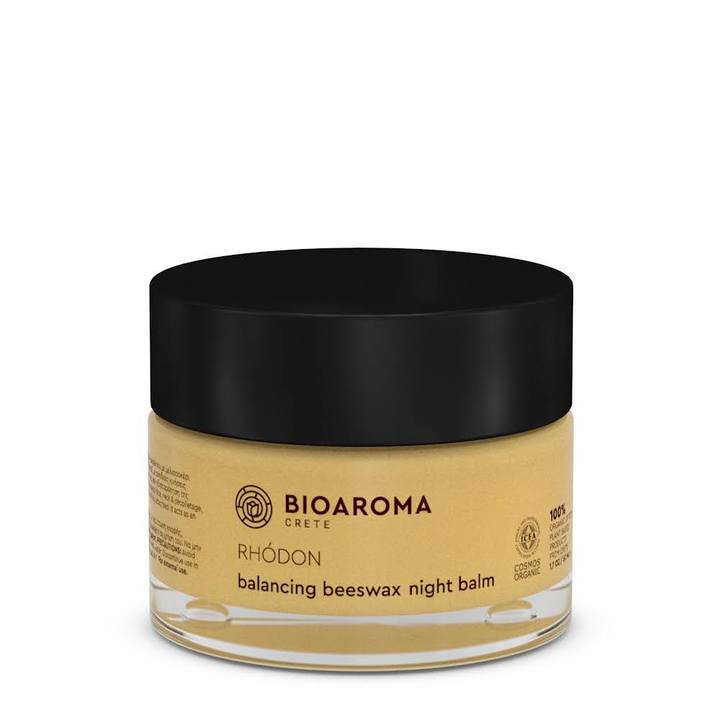 Bioaroma Crete Rhodon Organic Balancing Beeswax Night Balm 50ml
---
SPECIAL OFFER!

50% DISCOUNT!

EXPIRY
12/22


AGORA COSMETICS

It traps moisture inside the skin. Enhances elasticity and regulates excessive oil secretion(διαγραφή). RHÓDON Balancing Beeswax Night Balm is a complete treatment for normal & mixed skin. It offers hydration and nourishment in depth. Enhances elasticity and offers a matte effect to the skin balancing excessive sebum secretion. The skin looks again radiant, healthy without being oily.

Its active ingredients penetrate the skin creating an invisible mask of deep hydration and radiance. Beeswax helps to maintain natural moisture as it creates a protective layer that breathes on the surface of the skin while locking its natural moisture. Rose essential oil which is a powerful antioxidant and is rich in vitamin A and C stimulates the production of collagen and moisturizes the deeper layers of the skin. The antioxidant components of cistus dilate blood vessels and contribute to better blood supply and oxygenation. This process causes the reconstruction of collagen and the angiogenesis of new blood vessels. In addition, the astringent properties of cistus have the ability to stimulate the skin tissues to close so that the face tightens, and the skin becomes smooth and firm. Finally, the rich polyphenols contained in dittany is a powerful antioxidant that fights free radicals that are a key factor of premature ageing, causes a significant increase in collagen and skin thickness and contributes to increased firmness and elasticity of the skin.
---

This is a preview of the recently viewed products by the user.
Once the user has seen at least one product this snippet will be visible.
RECENTLY VIEWED ITEMS