Bioaroma Crete Elixirion Pomegranate Oil - Organic Pure Cold Pressed Oil 30ml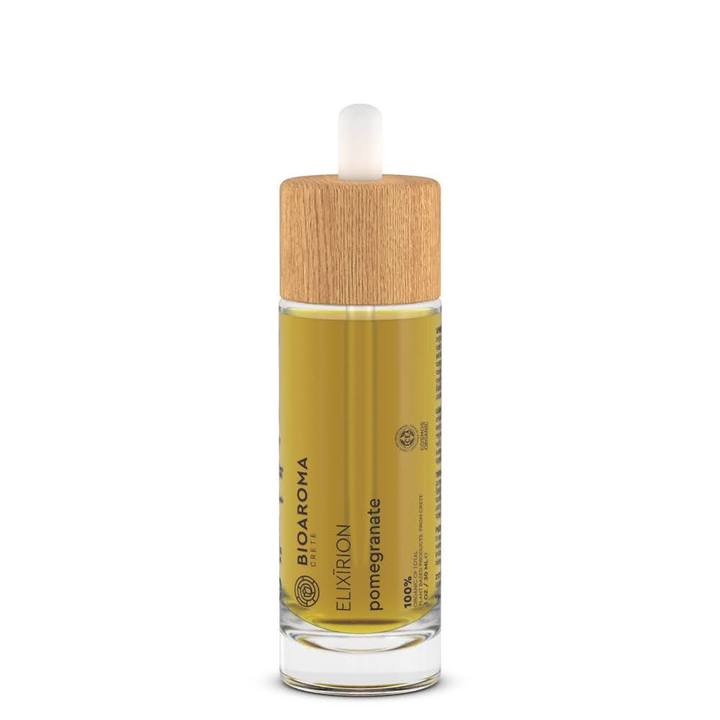 Bioaroma Crete Elixirion Pomegranate Oil - Organic Pure Cold Pressed Oil 30ml
---
AGORA COSMETICS

Close menu
One of the most sought after oils in the world. Regenerates the skin, neutralizing the signs of premature aging and reducing wrinkles on the skin. ELIXIRION Pomegranate Oil is an effective, moisturizing oil that softens the skin, offering anti-inflammatory, antimicrobial, healing and nourishing properties.
Produced by Bioaroma Crete from the organic seeds of the fruit. Our pomegranates are harvested, dried and then cold pressed. The raw pomegranate oil produced by this process maintains the highest level of its beneficial active compounds making it a very benificial skin oil.

Benefits of ELIXIRION Pomegranate Oil:

Anti-aging: Pomegranate Oil is rich in phenolic compounds such as punic acid (86%), punicalagin and fatty acids such as linoleic acid, gallic acid and ellagic. They show strong antioxidant and anti-inflammatory action. They neutralize free radicals from the environment before damaging the skin. They also protect the skin from ultraviolet light and premature aging. At the same time, they regenerate the skin and reduce wrinkles and fine lines.

Antiseptic action: It has antimicrobial properties and acts as an effective anti-inflammatory agent.

Reduces dark circles: Elixirion Pomegranate Oil contains vitamin K, a powerful weapon against dark circles. It treats the problem by controlling the accumulation of blood in the vessels of the eye area.

Acne treatment: Cleanses the pores of excess sebum and relieves the symptoms of acne.

Can be used for any skin type. Its highly moisturising and nourishes and softens the skin.
---

This is a preview of the recently viewed products by the user.
Once the user has seen at least one product this snippet will be visible.
RECENTLY VIEWED ITEMS