Bioaroma Crete Elixirion Argan - Organic Pure Cold Pressed Oil 30ml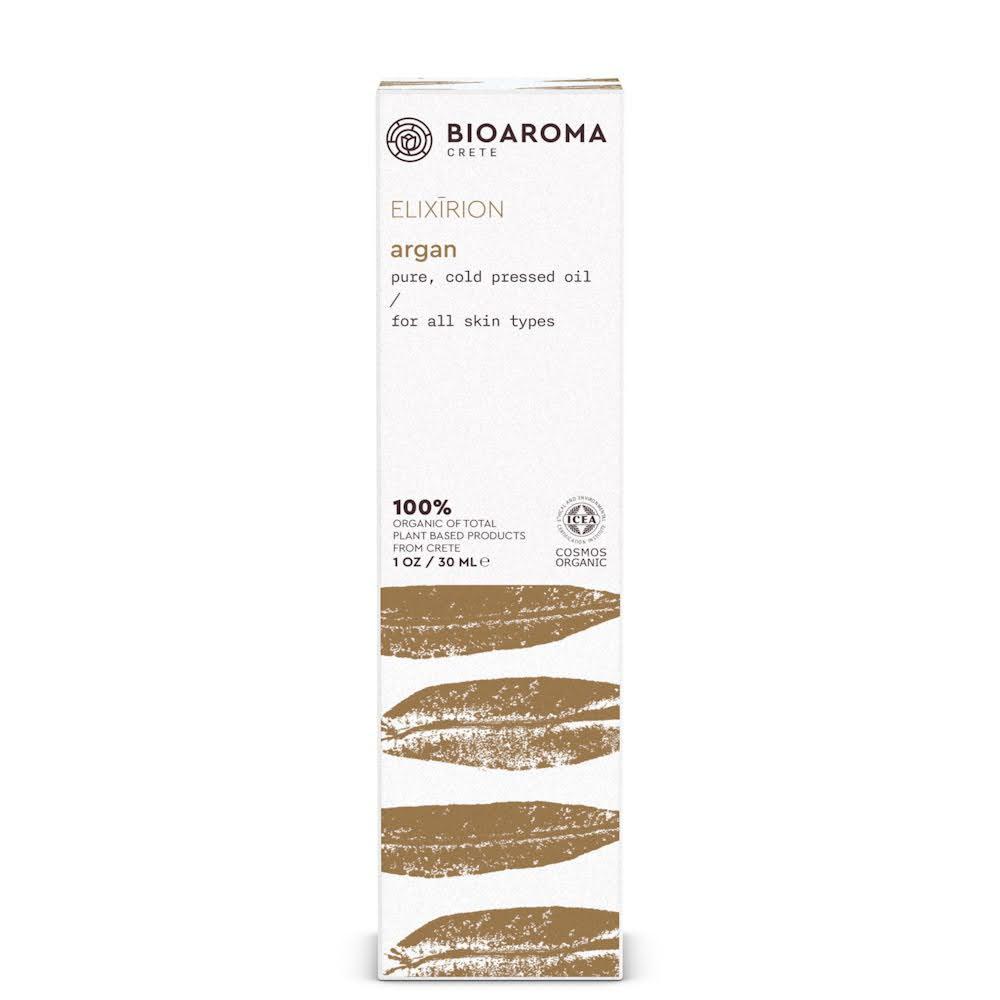 Bioaroma Crete Elixirion Argan - Organic Pure Cold Pressed Oil 30ml
---
AGORA COSMETICS

Widely known as liquid gold, Argan Oil is a truly amazing treasure of Mother Nature. It Increases skin elasticity and stimulates collagen synthesis and repairs damaged hair. Argan oil has a light texture and is produced by squeezing the fruits of Argania Spinosa trees, found only in Morocco.
Argan oil has traditionally been used to improve the health of the skin, hair and nails. It contains various beneficial properties and vitamins that are a powerful combination to stimulate skin health.

The main benefits of ELIXIRION Argan for the skin are:

Anti-aging: Argan oil is used as an anti-aging treatment because it enhances collagen production and helps significantly increase skin elasticity.
Sun protection: Moroccan women have traditionally used Argan oil to protect their skin from the sun. Studies have shown that the antioxidant activity of Argan oil helps protect the skin from free radical damage caused by the sun. It also protects against sunburn and the formation of freckles. In the long run, this can even help prevent the development of skin cancer such as melanoma.


Hydration: Argan oil is very often used as a moisturizer. This is because it is rich in vitamin E, which is a fat-soluble antioxidant that can help retain water in the skin.


Treatment of skin diseases: Argan oil contains a large number of healing properties, including antioxidant and anti-inflammatory properties. Both help reduce the symptoms of various inflammatory skin conditions such as psoriasis and rosacea.


Acne Treatment: Hormonal acne is often the result of hormone-induced sebum. Argan oil effectively regulates excess sebum on the skin.


Treatment against skin infections: One of the traditional uses of Argan oil is the treatment of various skin infections as it has antibacterial and fungicidal properties.
Use it twice a day, applying a small amount on your preferred area and perform a local massage.
---

This is a preview of the recently viewed products by the user.
Once the user has seen at least one product this snippet will be visible.
RECENTLY VIEWED ITEMS