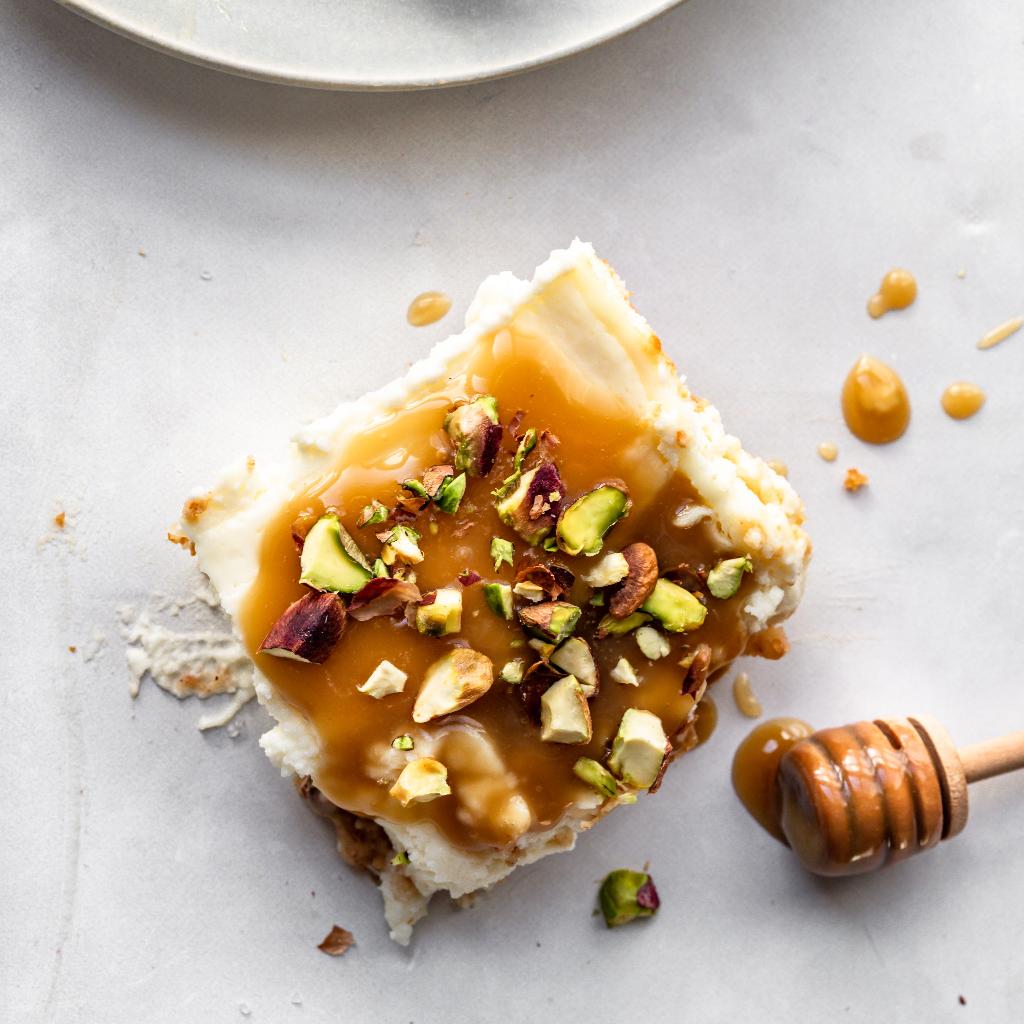 Labneh Cheesecake
Labneh cheesecake! Yummmm!! I've dabbled in adding a little labneh to cheesecake in the past, but retained a mostly cream cheese base. This time, I used Agora's labneh and Greek yogurt and went all in. These labneh and yogurt cheesecake bars are drizzled with a honey caramel- a caramel sauce made with no sugar at all! Just Agora honey! What a winning combination.
---
40 min bake
4 HRS chill
12 small
squares
Easy -
moderate
---
Ingredients
For the crust:
1 cup graham cracker or digestive biscuit crumbs 120 g
1/4 cup butter, melted 60 g
1/4 tsp cinnamon powder
For the cheesecake:
2 cups labneh, at room temperature 400 g
3/4 cup white sugar 150 g
6 tbsp milk, room temperature
2 eggs, room temperature
1/2 cup Greek yogurt 120 g
1.5 tsp vanilla extract
2 tbsp all purpose flour
For optional honey caramel sauce:
1/4 cup butter 50 g
1/2 cup and 2 tbsp honey 200 g
1 cup heavy whipping cream 250 ml
Method
Crust

Heat oven to 180C. Combine crushed biscuits, melted butter, and cinnamon with a fork until crumbs are moistened evenly.
Press along the bottom of a lightly greased 8 inch square pan.
Bake crust for 8 minutes and set aside to cool slightly while you prepare the filling. Reduce heat to 325F (165C).
Cheesecake

Using a mixer, combine the labneh with the sugar in a large bowl and mix on medium speed until well combined and fluffy.
Blend in the milk, then add the eggs one at a time, mixing briefly after each addition.
Mix in Greek yogurt, vanilla and flour until smooth.
Pour filling onto crust and bake 38-40 min until edges are set and center jiggles slightly.
Cool at room temp for 30 min, then 4 hours or overnight in fridge.
Enjoy plain, or topped with honey caramel sauce (recipe below) and chopped pistachios.

Honey caramel (optional topping)

Melt the butter and honey together in a small saucepan over medium heat. Stir until combined. Increase the heat slightly, and allow to simmer gently for 10 minutes or until slightly thickened and darkened in color.
Add the cream, whisk to combine, and allow to just come to a boil, then remove from heat.
Stir in the salt, and let stand for 5-10 minutes for the sauce to cool slightly.